Scripts
We have over 20 different scripts to choose from, OR for a fee, we can write YOU a custom script! We even have Murder Mystery Scripts without Murders! JUST ASK US FOR DETAILS!
We have special scripts to fit most occasions, including:
Christmas
Halloween
Valentine's Day
Stampede, Mardi Gras
St. Patricks' Day
New Year's
Birthdays
Graduation
Weddings
RESORT TO MURDER  (5 or more actors)
#1 Most Requested Show!
Your generous company has decided to give you a weekend of pampering at the Awakenings Spa. What was once a hot spot for celebrities and oil tycoons is now a DYING business.
CHARACTERS:
Wanda & Richard Lovitt, the owners of the spa
Penny Trayshin, resident couples therapist
Serge Rolfing, the flighty European massage therapist
Karma Mystikka, the gossiping psychic
Herb Skanheelu, the Hippy Herbologist
Chef Pepe Poissant, French lover and excellent chef
EXTRAS:  Heather Olson, nail technician; Sam Cutty, hairdresser;
This script is ideal for customization for Hollywood, Birthdays, Anniversaries, Valentine's, Christmas, Halloween, and more.
Interactive Component:
A hilarious competition called "the Man-Off." Highlight of the show!
MAFIA MURDERS (6 – 7 Characters)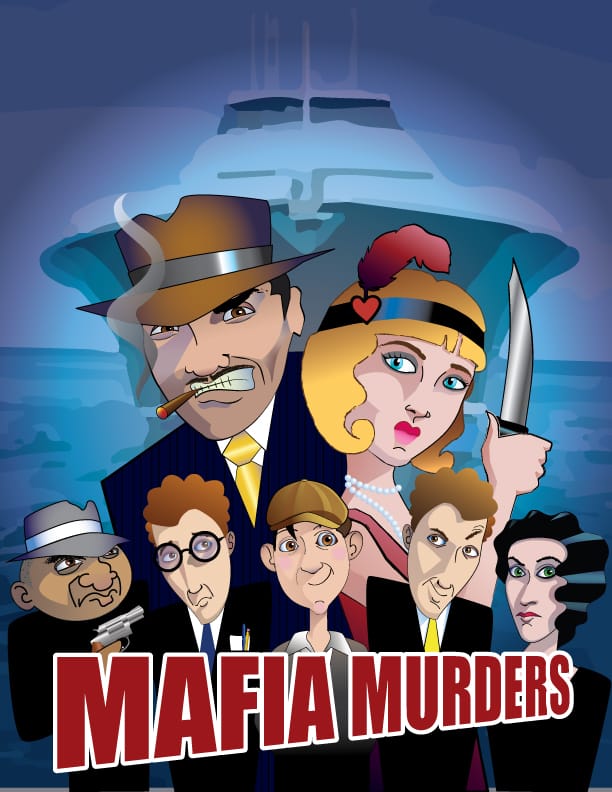 The new Godfather invited you to his Speakeasy and later, his huge yacht, where we can gamble, drink, and have a good time!
The trouble is, he's not the only one who believes he should be the Godfather. Tempers flare as the body count rises. This mystery has a surprise ending worth seeing for sure!
CHARACTERS:
Donato Brundizzi, the Godfather
Waldo Brundizzi, his younger brother, much weaker brother
Fifi LaTrick, speakeasy singer, dumb as a doll
Rita Scallopini, the grieving niece
Crusher Ginelli, the loyal bodyguard
Dapper Dan, the nerdy bookkeeper
Jimmy the Gyp, Dan's twin and no good backstabber
Dressing up in roaring 20's outfits is always popular!
Interactive components:
Fifi sings a song and uses back up dancers. Competition for the Godfather's next bodyguard.
VEGAS VENDETTA (5 or more actors)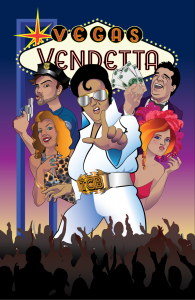 Thanks for coming to the High Roller Casino's Annual Staff Appreciation Party! You've all been an important part of the success of the Casino. This is just one way that we can thank you for all your hard work.
CHARACTERS:
Nico Brundizzi, Sleazy Casino Owner.
Bunny Brundizzi, Nico's gold-digging wife.
Kat Stocking, Nico's younger lover & Casino's best showgirl Melvin, Washed up Elvis Impersonator.
Melvin, Washed up Elvis Impersonator
Terrance Shane, Casino Security
Carmy Brulee, aging showgirl
This show can be a dress up show.
Suggested Wording:
"Dress in your Cheesy Vegas Best."
Interactive component:
Showgirl performs a song and uses back up dancers. Auditions for new Elvis Impersonator.
CLUE: Murder is NOT a GAME (4 – 6 actors)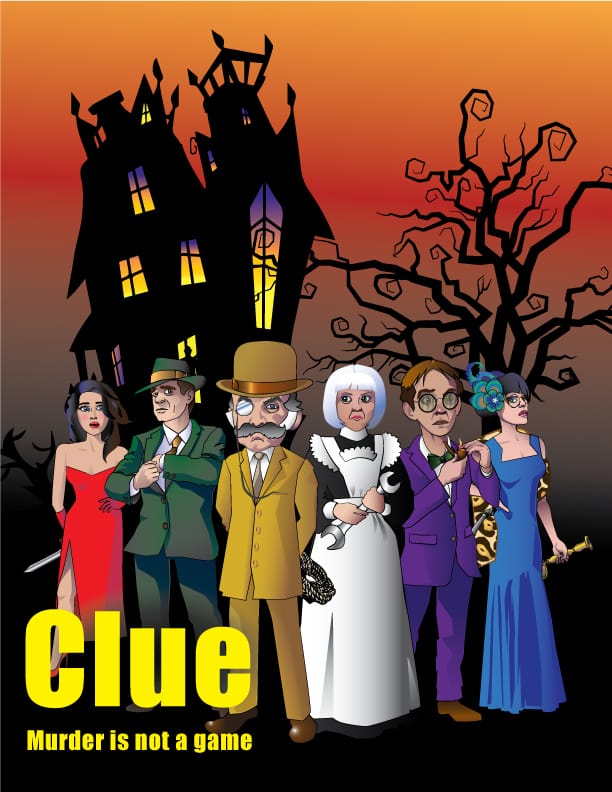 Great for small groups. All your favourite players are here with a twist! Inspired by the popular board game, CLUE.
Mr. Boddy's entourage is gathered as suspects in his Murder! Can you help Inspector Dijon solve the case?
CHARACTERS:
Inspector Dijon Miss Starlett, Mr Boddy's recent ex-girlfriend
Dr. Peach, Mr. Boddy's Doctor & Friend
Ms. Partridge, Mr. Boddy's ex wife
Mrs. Winter, Mr. Boddy's Maid
Mr. Sheen, Mr. Boddy's former business partner
Interactive Component:
Scavenger-type hunt for evidence and clues.
HILLBILLY WEDDING (6 or more actors)
#2 Most Requested Show!
Great for large groups. When Buck Waters struck oil, he sold his property for millions and moved the family to the city so Lily Beth could find a husband. Nothing can stop a good wedding reception. With Hillbillies, you never know what to expect.
CHARACTERS:
Lily Beth Waters, the simple, sweet, backwoods bride
Nellie Woodsay, the beer guzzlin' bridesmaid
Buck Waters, father of the bride
JT, family friend and (stand-in) best man
Donavon, the groom who comes from big city money
Kate Carmichael, his cougerific "mother"
Me-Ma, gun-toting gramma
RCMP Contable SHane
This show is great for rustic venues like western style restaurants, barns, community halls, but works well anywhere! Easy to decorate for. Fun for dressing up!
Interactive Component:
Pig Hollering! A crowd favourite!
HIGH SCHOOL REUNION (7 or more actors)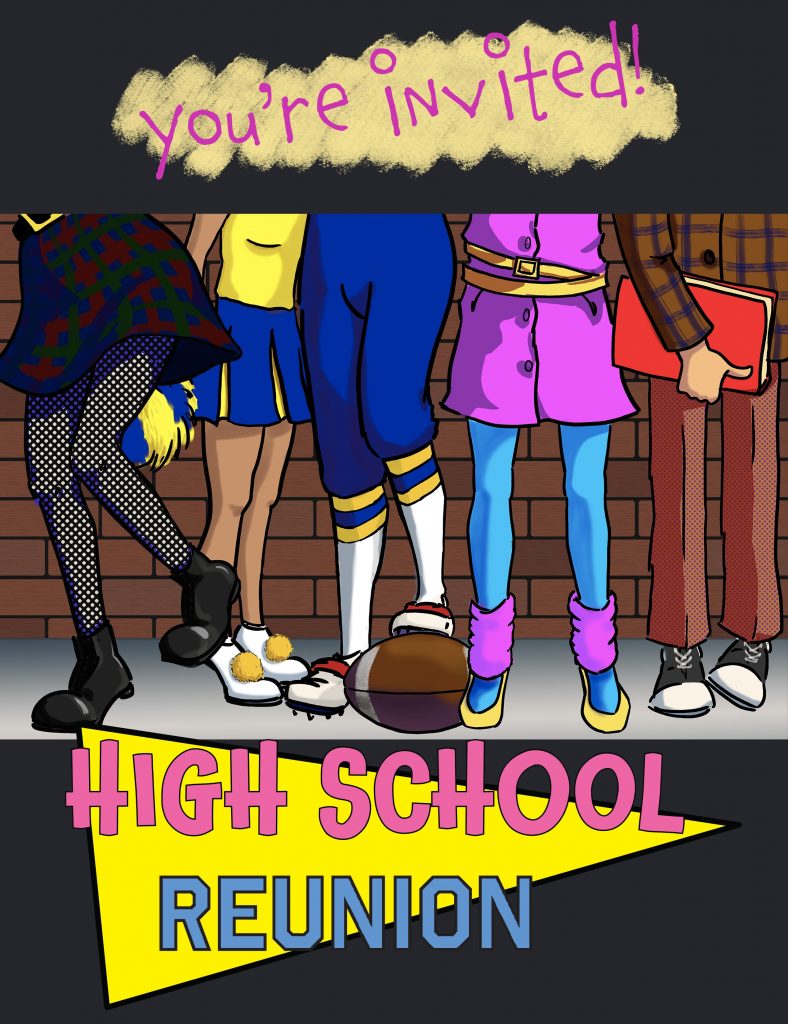 Great for large groups. Welcome to Selkirk High's 80's Reunion! All your friends from high school will be here.
Sadly, along with some people you won't want to see! You hope they all got ugly because it's YOUR night,. You are absolutely dying to go!
CHARACTERS:
Skip Jamison, captain of the football team
Brittany Jamison, the cheerleader he knocked up
Warren P. Yurpance, everyone's favourite nerd
Nancy Preston, class valedictorian
Principal Hegemony, her bite is way worse than her bark
Coach Slovenly, lazy out of shape has been living in the past
Mrs. Fran Bustle, the guidance counselor, clearly off her meds
Terry Shane, drop out now security guard / private investigator
Optional 80's theme dress-up party, can also be other eras – 60's, 70's, etc.
Interactive components:
Trivia, Airband, and best costume competitions. Election for King and Queen of the prom!
ACT 1, MURDER 2  (7 or more actors)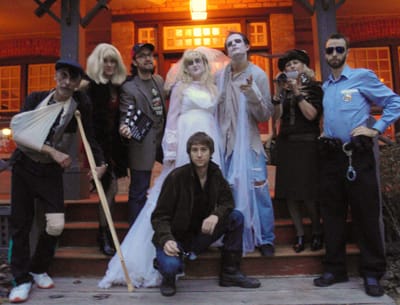 Welcome to the set for Sage Production's latest movie as Extras! We will try not to have you stay longer than the agreed-upon three hours. If we have unforeseen problems, we may require you stay.
CHARACTERS:
Sammy Jester, the director
Sheila Kingdom, the props and camera person
Sandy Burglass, the talent agent
Ivana Skreem, our leading lady
Cory Jander, our leading man
J.C. Flynn, our supporting actor
Billy Bob Talen, the Stunt Man & Stunts Coordinator
Terry Shane, Set Security
These scripts can have different themes within the movie like Halloween, Christmas, Western, Doctors, or anything else!
Interactive components:
Holding auditions, audience participating in movie scenes.
MURDER, IF YOU WILL (5 or more actors)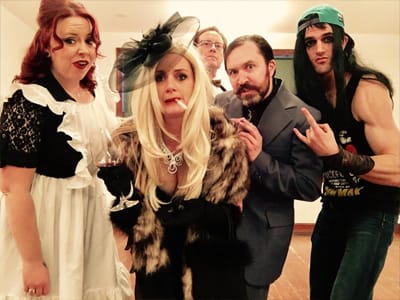 You've been invited to the Livingston Manor, for the reading of the late Jack Livingston's will. A few weeks ago, Jack was found dead in the bathtub in an APPARENT accident.
CHARACTERS:
Cynthia Danforth, Jack's 3rd wife
Miss Abby Potts, the maid
Mr. Chiveston, the long-suffering butler & driver
Sheldon Danforth, Jack's son from his first marriage
Terry Shane, lawyer & private detective
Interactive Component:
Talent show in honour of Jack's death.
 Christmas
Themes
All of the above scripts can have a bit of Christmas spirit thrown into them.
If you're looking for something specific, try one of these:
Resort to Murder at the North Pole  (5 or more actors)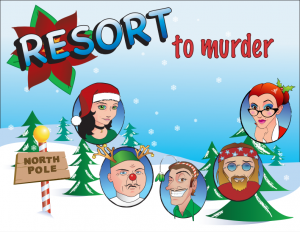 As above, with characters such as Nicolas & Wanda Claus, owners of the new spa at the North Pole and Karma Elferson, formerly in charge of toy manufacturing.
HOMICIDE FOR THE HOLIDAYS (7 or more actors)
It was supposed to be a nice little family Christmas party, just Mom, Dad, and the kids with a few dozen of their closest friends. It should have been warm and fuzzy, the perfect example of family values and traditions.
But the only thing warm is the blood being spilled. The only thing fuzzy is everyone's alibis. But that's what happens when murder comes down the chimney and deceit, hate and corruption are the only presents under the tree.
CHARACTERS:
Harold (Happy) Holiday, the father
Mary Christmas, his wife
Nicholas Saint, Harold's accountant
Jeanette Flambeau, daddy's little girl
Harcourt (Hark) Angel, not so good son
Carol Bell, Hark's new girlfriend
Terry Shane, there to investigate another crime
MURDER AT THE MISTLETOE MALL (5 or more actors)
Join us in the Reindeer Restaurant for Mistletoe Mall's annual appreciation and award party. The recipient of Employee of the Year receives a trip for two to Paris and a $50,000 cash prize.
Who will it be?
The Mall Santa, Mrs. Claws, or Buddy the Elf? Rhonda Fonda Fondue from the Lobster Kiosk? Peter Numbers the Accountant? Join us at the Christmas celebration that promises mistletoe, madness, and murder!
TWO SANTAS SLEIGHING (7 or more actors)
Your company has been in partnership with North Pole Enterprises, which runs a theme park up North in Cambridge Way. It is also a successful toy manufacturer. The past CEO (rest his soul) Sam Klauss, was a visionary.
He turned a small dog sledding company into a multi-million dollar theme park, which rivals Disneyland. We are here tonight to find a replacement to run the company. You are all contenders.
Everyone thinks they've got a shot, some coming in Santa suits, trying to fill his shoes. Big shoes to fill, but things are heating up. I mean, how far are you willing to go?
CHARACTERS:
Kate Brigham, Director of PR
Mrs. Amanda Klauss, the widow
Nigel Fenwick, the caribou (reindeer) herder
Jenny Greenvale, Production Manager (elf)
Doug Wilson, self-proclaimed VIP (Santa #1 contender)
Barney McGuire, disheveled salesman (Santa #2 contender)
Terry Shane, gumshoe, just happens to be there for free food
SCROOGED AT CHRISTMAS (8 actors)
Tonight is promotion night for the new Andrew Lloyd Gumme/Tim Boyle musical, "Scrooged." It is due to open in six weeks time but the show has not been completely cast. It is for this reason that part of tonight's activities are to be dedicated to finding new voices for the chorus, possibly leading parts, and selling a few cheap tickets for opening night.
As a consequence, many of the significant players in the company will be on hand to mingle with the audience. You may need to audition. Don't worry if you can't sing! At this point we're just not that picky.
CHARACTERS:
Mr. Gough Key, the lead in the musical
Rubella Martin, his leading lady
Tim Boyle, lyricist
Andrew Lloyd Gunne, composer
Petra Gumme, his wife
Neville Rood, the critic
Desmond Bell, sound man
Terry Shane, chorus, PI (day job, which he probably shouldn't give up)
We have over 20 different scripts or can write custom scripts to fit with your particular idea.  We've written scripted stage shows too if you don't like the idea of 'interactive', but that's what makes these shows over-the-top fun!
We have special scripts to fit most occasions, including HALLOWEEN, MOTHER'S DAY, FATHER'S DAY, STAMPEDE (Calgary), CANADA DAY, MARDI GRAS, ST. PATRICKS DAY, NEW YEARS, STAGGETTES, BIRTHDAYS, GRADUATION, & WEDDINGS!